---
Continuing the Work  (1/28/22)
The work is continuing on the skybridge between the Northshore Senior Center Bothell campus and the Health & Wellness Building. The crews from Longs Painting have been busy at work blasting and pressure washing behind their plastic enclosure in preparation for next steps!
We want to thank everyone for their continued patience with the extra noise (although not near what we were expecting) and the congested parking at times.  We continue to adjust as we can and are using any lessons learned when planning for upcoming projects…and boy, do we have some very exciting upcoming projects, so be on the lookout for more information on those and on the opening of our updated skybridge!
---
Skybridge Update  (1/27/22)
If you are coming to either of the NSC Bothell locations or even just driving down Riverside Drive, you may have noticed some new construction activity on the skybridge between the Senior Center and the Health & Wellness Building. This is one of several important capital projects that will be completed by the Northshore Parks and Recreation Service Area (NPRSA) over the next year, with support from the NPRSA Prop 1 Levy that was approved by voters in 2019.
This project will last about 4 months and due to the type of work the entire bridge will be enclosed in a construction barrier to protect our members and neighbors during the project. We understand that moving between the two buildings may take a little longer than normal, and there will most likely be some construction noise to contend with as the project gets going. However, we are working with our partners at Forma Construction and Cornerstone Architectural Group to keep disruptions to a minimum.
Stay tuned for more information as we move forward on this project, and look for further announcements about other refurbishments that will make NSC's Bothell campus more exciting than ever!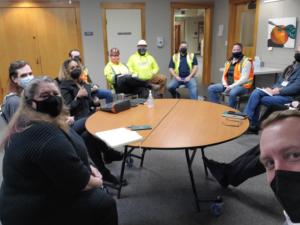 1st project planning team meeting with NSC, NPRSA, Cornerstone Architectural Group and Longs Painting representatives.
---
No Proposed Changes to Bylaws

The Northshore Senior Center Board of Directors has no changes to the bylaws governing the organization. A final vote on these will be held at the next board meeting. You …

2018 Annual Report

We had a lot to be proud of in 2018. Download the 2018 Annual Report to see just a few highlights from throughout the year.

2017 Annual Report

Download the 2017 Annual Report PDF to see highlights from throughout the year.