Proposed Changes to Bylaws (Posted on 5/31/23)
The Northshore Senior Center Board of Directors reviews its bylaws every year. This year there were changes to the state regulations addressing non-profit organizations. An attorney review has been completed and changes have been made to align NSC's Bylaws with current state regulations and to clarify current practices. A final vote on these will be held at the next board meeting (6/27). You can find the proposed bylaws here. 
The board will vote on whether or not to accept the bylaws at the June 27th meeting. Members have until June 25th to make comments on this decision.
Please email information@mynorthshore.org with your comments.
---
Safe use of Prescription Pain Medication
Prescription Pain Medications are safe and beneficial when used correctly. If you or someone you know is struggling with knowing what is safe and what isn't this pamphlet from the Washington Department of Health is a great resource.
---
Inclement Weather Closure (Posted on 11/30/22)
Due to the weather, Bothell and Kenmore locations will be closed today, Wednesday, 11/30. Mill Creek will be open regular hours.
Please continue to check our Facebook and website news page for updates.
---
No Proposed Changes to Bylaws (Posted on 11/16/22)
The Northshore Senior Center Board of Directors has no changes to the bylaws governing the organization. A final vote on these will be held at the next board meeting. You can find the current bylaws here.
The board will vote on whether or not to accept the bylaws as-is at the December 13th meeting. Members have until December 12th to make comments on this decision.
---
FREE Estate Planning Presentation, Tuesday, March 22 (Posted on 3/8/22)

Join us on Tuesday, March 22, 2022 from 2PM-3PM for a free presentation on Estate Planning! This will be presented by John Hugg, Attorney and Scott Newton, Edward Jones. Please RSVP to Nina McGuinness (ninam@mynorthshore.org) 
---
NSC COVID Update ( Posted on 2/28/22)
As COVID hospitalization rates decline and vaccination rates climb over 80% in Northshore, many local governments are loosening their COVID requirements for places like fitness centers, restaurants, and recreational spaces. 
While we offer many recreational programs at NSC, our centers also provide a variety of healthcare services, so we follow a set of protocols that go beyond what would be required of gym or restaurant.  Moreover, the safety of our patrons and staff is a critical priority for NSC, especially since many people who depend on our programs and services are at the highest risk for developing severe COVID. 
NSC will continue to require masking, symptom-checking, and social distancing at our centers, but we plan to lift the vaccination requirement for members and guests on April 1st.  NSC will continue to monitor local health conditions and work with public health partners to evaluate all our COVID precautions during March, including indoor masking.  If you have any questions or concerns, please feel free to check in with our program staff or reach out to me directly at NathanP@mynorthshore.org. 
While proof of vaccination will no longer be required for entry at NSC on April 1st, COVID vaccines and boosters remain the most effective way to reduce the chance of COVID hospitalization and death, especially among older adults. Vaccinated adults are also less likely to transmit COVID to others. NSC recommends that anyone wishing to enter one of our facilities should get vaccinated if they are able to do so, for their own safety and the safety of our members, staff, and community.
Your health and safety are our highest priority at NSC.  Thank you for your patience and flexibility as we navigate the COVID pandemic together. 

---
What to expect when entering our facilities
Beginning on Monday, October 25, 2021, everyone entering Northshore Senior Centers will be required to present proof of COVID vaccination or a negative result from a COVID test administered within the past 72 hours. We are implementing this requirement to comply with state and local health requirements, and to ensure our facilities are as safe as possible for our members. Many thanks to our 500+ members who have already loaded their vaccination status into their membership account!
When entering, we still will be requiring our COVID-19 screening process to be completed. This includes a temperature check and symptom questionnaire.
All individuals (members, non-member participants, guests, etc.) will be required to check-in at our facility touch screen prior to entering further into our facility. Our touch screen system will alert you immediately if we do not have up-to-date vaccination status records in our system. If this alert pops up, please immediately see one of our front desk staff/volunteers for vaccine or negative COVID-19 test verification.
If you have not had one of our staff/volunteers verify your vaccination status, and input it into our system, please plan to arrive 15-20 minutes early for your activity.

Acceptable vaccine documents include:

CDC COVID-19 vaccine record card or photo of vaccine card
Printed certificate or digital record from MyIRMobile.com
Other official immunization record from within or outside the U.S.

If you are not vaccinated or fully vaccinated, and choose to attend one of our facilities, please arrive early to your activity so that we have time to verify your negative COVID-19 test.

Any type of COVID-19 test administered by a testing provider can be used. Testing providers are required to use FDA-authorized or approved COVID-19 tests.

Masks will still be required to be worn indoors, at all times for everyone, regardless of vaccination status.
If you are looking to renew a membership, would like to become a new member, or would like to participate as a non-member, please remember to bring your vaccination information or COVID-19 test result with you. We look forward to seeing you!
---
Vaccination mandate for members and guests effective 10/25
In alignment with new health directives coming from King County, Northshore Senior Center will be requiring proof of vaccination for everyone accessing our in-person classes and activities starting on October 25th.  This applies only to INDOOR activities—not activities held outdoors like the food pantry.
This policy will extend to all Northshore Senior Center facilities including our Mill Creek Senior Center in Snohomish County.  We have made this decision to both keep our members, volunteers and staff safe, and to have consistency in policy across our organization.  Staff and volunteers are also required to be fully vaccinated by October 18th.
Individuals who do not want to get vaccinated or who are not yet fully vaccinated (2 weeks after completing your vaccination series) can show proof of a negative PCR test (within 72 hours) or a rapid test just before visiting our facility in lieu of showing they have been vaccinated.  Proof of vaccination can include showing a copy of your vaccination card, or a copy of an official health record from your health care provider.  Individuals wanting to skip the rush later in the month can bring in their proof of vaccination to any of our three senior centers in advance of the 10/25 deadline.
A variety of programs and services continue to be available virtually for individuals not wishing to get vaccinated at this time.  These include online classes, the food pantry, community dining (to-go), online support groups, transportation, etc.  We understand that this decision may be frustrating to some members.  Please do not take out your frustration on our hard working front desk volunteers!
---
Introducing our New CEO, Nathan Phillips!
The Board of Directors is pleased to announce that we have selected Nathan Phillips to succeed Brooke Knight as CEO of the Northshore Senior Center on October 18th.  After reviewing several outstanding candidates, we determined that Nathan has the experience needed to lead the senior centers out of the pandemic and to grow our programs to meet the community's evolving needs.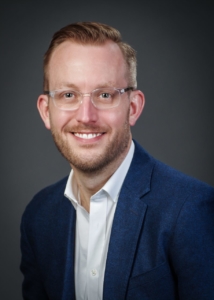 For the past four years, Brooke's leadership has provided the senior center with greater stability and agility, even as we navigated the challenging situations created by the COIVD pandemic.  Brooke helped establish the organization as an independent non-profit organization and led the levy campaign to fund much-needed improvements at the organization's Bothell campuses.  The board is grateful to Brooke for sharing her talents with us, and we wish her well as she moves on to develop her real estate business. 
In identifying a leader to take over for Brooke, the board was impressed by Nathan's previous work at the YMCA of Greater Seattle where he served as the Chief Administrative Officer and Regional Vice President.  He also oversaw the design and construction of the Kent YMCA which opened in 2019.  Prior to the YMCA, Nathan directed the South King Council of Human Services and studied public policy and law at the University of Washington.  On sunny days, Nathan enjoys hiking and biking with his family. 
As the October 18th leadership transition approaches, please join us in thanking Brooke and welcoming Nathan to the NSC family.  Most of all, thank you for helping to make the Northshore Senior Center a success, even in these difficult times.  
---
No Proposed Changes to Bylaws

The Northshore Senior Center Board of Directors has no changes to the bylaws governing the organization. A final vote on these will be held at the next board meeting. You …

2018 Annual Report

We had a lot to be proud of in 2018. Download the 2018 Annual Report to see just a few highlights from throughout the year.

2017 Annual Report

Download the 2017 Annual Report PDF to see highlights from throughout the year.