Vaccination mandate for members and guests effective 10/25
In alignment with new health directives coming from King County, Northshore Senior Center will be requiring proof of vaccination for everyone accessing our in-person classes and activities starting on October 25th.  This applies only to INDOOR activities—not activities held outdoors like the food pantry.
This policy will extend to all Northshore Senior Center facilities including our Mill Creek Senior Center in Snohomish County.  We have made this decision to both keep our members, volunteers and staff safe, and to have consistency in policy across our organization.  Staff and volunteers are also required to be fully vaccinated by October 18th.
Individuals who do not want to get vaccinated or who are not yet fully vaccinated (2 weeks after completing your vaccination series) can show proof of a negative PCR test (within 72 hours) or a rapid test just before visiting our facility in lieu of showing they have been vaccinated.  Proof of vaccination can include showing a copy of your vaccination card, or a copy of an official health record from your health care provider.  Individuals wanting to skip the rush later in the month can bring in their proof of vaccination to any of our three senior centers in advance of the 10/25 deadline.
A variety of programs and services continue to be available virtually for individuals not wishing to get vaccinated at this time.  These include online classes, the food pantry, community dining (to-go), online support groups, transportation, etc.  We understand that this decision may be frustrating to some members.  Please do not take out your frustration on our hard working front desk volunteers!
Introducing our New CEO, Nathan Phillips!
The Board of Directors is pleased to announce that we have selected Nathan Phillips to succeed Brooke Knight as CEO of the Northshore Senior Center on October 18th.  After reviewing several outstanding candidates, we determined that Nathan has the experience needed to lead the senior centers out of the pandemic and to grow our programs to meet the community's evolving needs.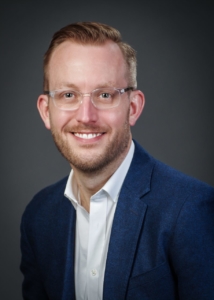 For the past four years, Brooke's leadership has provided the senior center with greater stability and agility, even as we navigated the challenging situations created by the COIVD pandemic.  Brooke helped establish the organization as an independent non-profit organization and led the levy campaign to fund much-needed improvements at the organization's Bothell campuses.  The board is grateful to Brooke for sharing her talents with us, and we wish her well as she moves on to develop her real estate business. 
In identifying a leader to take over for Brooke, the board was impressed by Nathan's previous work at the YMCA of Greater Seattle where he served as the Chief Administrative Officer and Regional Vice President.  He also oversaw the design and construction of the Kent YMCA which opened in 2019.  Prior to the YMCA, Nathan directed the South King Council of Human Services and studied public policy and law at the University of Washington.  On sunny days, Nathan enjoys hiking and biking with his family. 
As the October 18th leadership transition approaches, please join us in thanking Brooke and welcoming Nathan to the NSC family.  Most of all, thank you for helping to make the Northshore Senior Center a success, even in these difficult times.  
Check out our most recent Northshore Navigator Newsletter!
---