[trx_sc_title title_style="default" title_align="center" title="September is National Senior Center Month"]
By Corey Lowell (Director of Senior Centers)
September 2022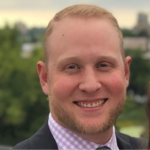 Celebrated every year in September, Senior Center Month is a time to shine a light on senior centers, showing the entire nation how vital senior centers are to the health and well-being of a community. Senior centers provide countless hours of support and encouragement to older adults and have become integral to health care delivery in our communities by providing COVID-19 guidance, vaccine education, and vaccinations to their participants. And they've played a role in addressing an issue that we all knew was important even before the pandemic: social isolation.
Senior centers have evolved since their beginning in the 1940s, with over 10,000 senior centers in communities and neighborhoods across the country providing access to information, opportunities, and support to improve the lives of people in their communities as they age. Northshore Senior Center is no exception to this, as we have a full suite of programs and services that are geared towards providing opportunities to improve your overall health and aging. From a variety of fitness and art classes, certified social workers on-site, and community food pantries, to opportunities for socialization and volunteerism, we have prided ourselves on being the one-stop shop for anything and everything older adult related (Check out our quarterly catalog HERE).
This year's senior center month theme is 'Strengthening Community Connections'. The theme is a perfect opportunity to acknowledge and promote all the amazing programs and services that you and the community might not be aware of, along with an opportunity for us to showcase all the amazing staff and volunteers that make the senior center what it is today.
So make sure that you are checking in at our front desk, monitoring our website, and following us on social media, this month to find ways to engage in some of these offerings, as well as learn a little bit more about the people who make this center all possible.